Our story




Already as a little boy, I was used to dogs, as that time it was mostly
English setter and Drathaar,
which were used by my father for the Hunting.

In 1986, now grown up and interested very much in shooting,I was looking for a different breed and choose
the ideal dog for this : the Labrador retriever.
I also wanted to be able to show them.
So I was lucky to meet two well known breeders, Mr Senepart and Mr&Mrs Germain
and bought from them Bering du Val D'Arry et Fortywink at Lawnwood.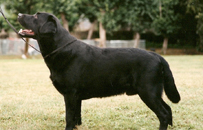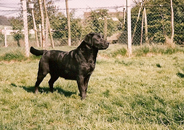 Bering ( 1986-1999) et Fortywink (dit Chance : 1986-1997)

After a few show with good results, I really was caught by the famous bug and we started our own breeding...
En 1987 we decided to get another bitch with an excellent pedigree :
Lejie Fancy Nancy ( litter sisterof Int.champion Lejie goody to show, and
a niece of Multichampion and Trialer Lejie Lucy); Nancy was a real showgirl and gained several CACIB and CAC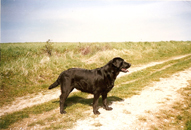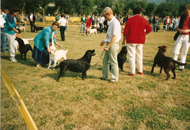 Nancy Nationale d'élevage 1989 à Dampierre



En 1990, I saw Mr Mathews at Cruft in Birmingham with his chocolate labradors.
The few chocolate labradors which one saw at that time
in France never had that super colour nor the lovely pigmentation
I decided to make a reservation for the next litter to come.
In the spring of 1991, I drove up all the way to the north of Scotland
near Aberdeen to the kennel of the Mathews : DONALBAIN.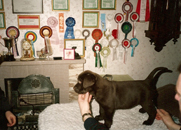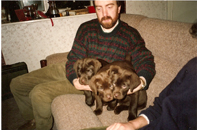 There was 11 puppies in the litter
I brought home two puppies: Macduff and his sister Foreign Affair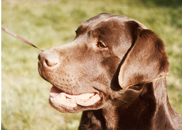 Macduff was to be the first chocolate male labrador to become an Int champion in Europe
I trained them both, Macduff and Foreign affair and they both were Trialer.
Many breeders in Europe have used Macduff for his qualities in beauty, his super colour and his working ability.

Here just a few of his many successfull offspring :
Ouzo : International Champion and Trialer
Dempsey v t Meijelicht : Show Champion
Lace joly sutton of blossomcroft : Multi working Champion in Canada

and of his sister offspring :
Irving du Taillis Madame : French working champion
Macduff was the base for our whole chocolate lines.

In 1994 we got another dog this time from England : Brandhams make me a star for Oulsmi("Ben") and the female Oulsmi Callypso (Eley).
Ben became Champion of Belgique and Luxembourg.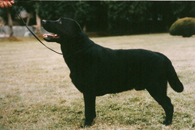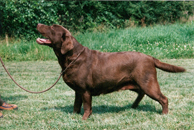 Bradhams make me a Star et Oulsmi Callypso

Ben has been a super sir with some beautiful Ofspring like :
Ch Master of chocolate de Taillis Madame
Multi Ch Pop Music ds Bords de l'Ysieux ( Champion d'Europe, Luxembourg and Germany)
Ch Power Chocolate ( International Champion, Champion of France,Luxembourg et aussi Trialer)
Ch Urore of Angels Heads
Ch Great Fun V H Meijelicht ( Championne of Germany and Luxembourg)
and so Little Ben du Taillis Madame et Phileas Melchior.
IN 1999, I returned once again to the North of Scotland to get two puppies, a male and female out of the same litter
at Achnagairn: Highland Chief ( Phoebus) et Scotch Mist( Pinky).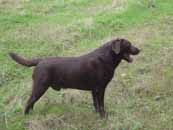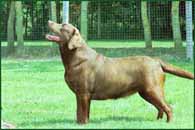 It has been a good choice and I got with them an outstanding working line such as :
Ch Samson du Taillis Madame,who was a show and working champion therefore a full champion with CCIT and and 7 CCT's


Sanson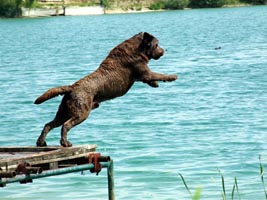 Pinky produced :
Tibère du Taillis Madame ( Trialer, sire rec.)one of ours sires, et de Uris du Taillis Madame ( dame rec)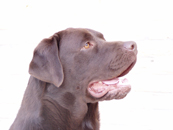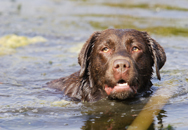 In 2006 we got some new lines with
Bering and Bloody Mary de la Tour Farmina.
which both are out of :
It's a Viking Otso V Budilium Hof ( Int Champion, Sire rec.)
Une cookie pour boubou de Planchevienne (Int Champion, Trialer, Dame rec.)